Broadway
Healthcare Center
Welcome to Broadway Healthcare Center! We are a 59-bed skilled nursing facility located in San Gabriel, California.  We provide around-the-clock professional nursing care and rehabilitation services in a clean, comfortable, home-like setting.
Suggested Visiting Hours
(M-F) 9am – 5pm
626-285-2165
Visit Us
112 E Broadway
San Gabriel, CA 91776
Visiting Hours
(M-F) 9am – 5pm
(951) 600-4640
Visit Us
112 E Broadway
San Gabriel, CA 91776
Committed to Excellence
Since 2000
At Broadway Healthcare Center we exist solely for the purpose of providing healthcare. For us, healthcare is not a business proposition, it is to provide the best care for our residents and it reflects our values. A staff of physicians, therapists, nurses, and rehab staff brings a smile and dedication to the facility each and every day.
With a tradition of excellence, Broadway is proud of its reputation, and it is reflected in our 4-star rating from Medicare.gov. Our residents are our primary focus and we believe that their comfort and well-being are our measure of success. We look forward to giving you a tour of our beautiful facility to meet our caring staff and show you what we are all about.
Your Choice for
Rehabilitation
At Broadway Healthcare Center, our experienced rehabilitation team will provide you with an individualized care plan to maximize your functional independence.
Our experienced therapist will work with you to strengthen your lower body and balance to facilitate secure mobility.
Occupational therapy will focus on functional mobility and strengthening both upper and lower body extremities.
Our speech therapist will assess speech and swallowing difficulties and plan appropriate treatments to help you thrive.
Services
What We're Known For
Restorative Nursing
We maximize the level of function for our long-term residents who may require specialized restorative nursing. Within our setting, you'll receive comprehensive medical and rehabilitation services, with your specific goals in mind.
Daily Activities
Our life enhancement department endeavors to ensure each resident has ample opportunities for both group and individually tailored activities including independent activities and room visits. Broadway Healthcare Center offers both Asian and American cultured activities to please our residents needs.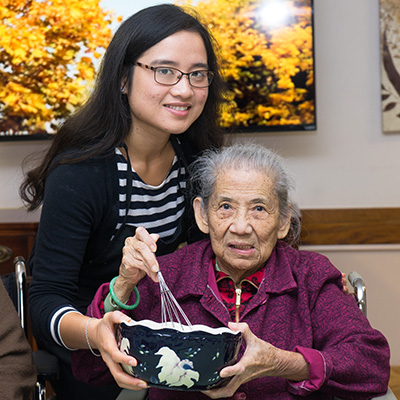 Dietary Program
Food is not just fuel, it's a part of your recovery plan. Social interaction, eating habits and overall well-being are enhanced by a dining experience that is filled with good conversation and an inviting atmosphere. Broadway Healthcare Center also offers Asian and American menus.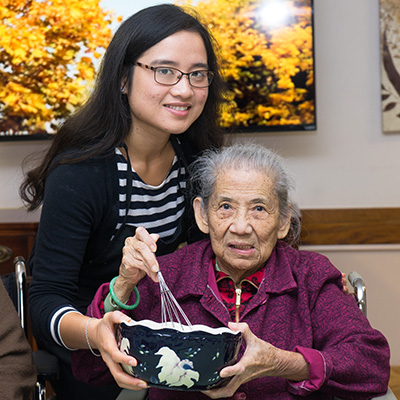 Learn about us from real reviewers
Reviews
Don't take our word for it. Learn more about Broadway Healthcare Center from real people who were patients here, visited here, or worked here. Enjoy!
Broadway Healthcare Center is a great place to start or continue your career. We have a happy staff that has been with us, some as long as 20-30 years. Come and see why working with the Broadway family is awesome!