What We Offer
Services
Broadway Healthcare Center provides specialized nursing and rehabilitation services tailored to each resident's individual needs.
Resident Favorites
What We're Known For
Restorative Nursing
We maximize the level of function for our long-term residents who may require specialized restorative nursing. Within our setting, you'll receive comprehensive medical and rehabilitation services, with your specific goals in mind.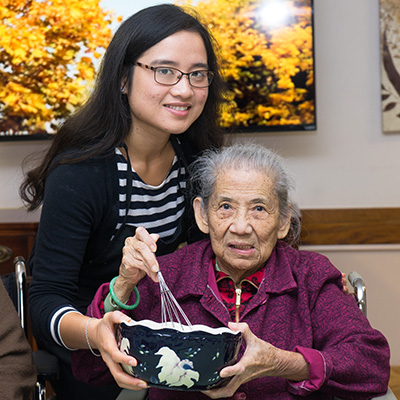 Customized Care
Through a personalized evaluation and assessment of your particular needs, we design a customized recovery plan with your involvement. Our goal is to help you participate in the things you want and need to do, and we understand that each person's situation is unique.
Dietary Program
Food is not just fuel, it's a part of your recovery plan. Social interaction, eating habits and overall well-being are enhanced by a dining experience that is filled with good conversation and an inviting atmosphere. Broadway Healthcare Center also offers Asian and American menus.
Our experienced therapist will work with you to strengthen your lower body and balance to facilitate secure mobility.
Occupational therapy will focus on functional mobility and strengthening both upper and lower body extremities.
Our speech therapist will assess speech and swallowing difficulties and plan appropriate treatments to help you thrive.
Our life enhancement department endeavors to ensure each resident has ample opportunities for both group and individually tailored activities including independent activities and room visits. Broadway Healthcare Center offers both Asian and American cultured activities to please our residents needs.
We assist the residents and their families during their stay which includes managing requests, concerns and discharge planning. Our social service team is available to coordinate services upon discharge to home or a lower level of care. We compassionately assist residents and families during this transition.